Low Noise Pyromusical Display – Fawsley Hall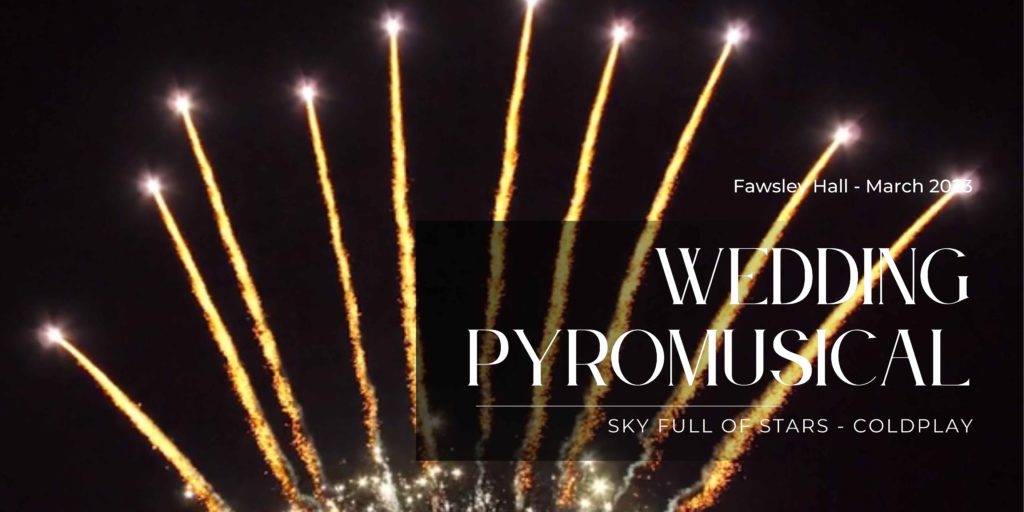 On a crisp weekend evening at Fawsley Hall in Northamptonshire, MLE Pyrotechnics put on a stunning low noise pyromusical display to Coldplay's "Sky Full of Stars". The display was a mesmerizing combination of perfectly choreographed fireworks and music.
As opposed to traditional fireworks displays, low noise fireworks are designed to produce minimal noise, which makes them perfect for events and wedding venues that require a quieter atmosphere. The MLE Pyrotechnics team utilised low noise fireworks to create a beautiful display that was in perfect sync with the music.
The display began with Gold comets and White strobing flares that illuminated the sky with light, setting the tone for the rest of the performance. As the music picked up pace, the fireworks also became more intense, with stunning visual effects such as falling leaves, crossettes and colour changing mines.
One of the highlights of the show was the use of multi-shot barrages that produced a stunning visual effect that seemed to fill the sky with stars. The synchronized explosions were a sight to behold, as they lit up the sky in a display of fireworks that danced to the beat of the music.
The low noise pyromusical display was a testament to MLE Pyrotechnics' commitment to excellence and their mastery of the art of pyrotechnics. The team's ability to create a stunning display that perfectly complemented the music was a testament to their creativity and technical expertise.
This low noise pyromusical display to Coldplay's "Sky Full of Stars" that MLE Pyrotechnics put on at Fawsley Hall in Northamptonshire was a stunning display of fireworks that left the audience in awe. The perfect combination of music and fireworks created a magical atmosphere that will be remembered by those who attended for years to come.
You can enjoy this display HERE!
If you are looking for fireworks at your wedding, contact us VIA OUR CONTACT FORM or by emailing james@mlepyrotechnics.co.uk