Fireworks PERFECTLY dancing to your song
Imagine your special song being expertly interpreted with pyrotechnics. Watch as our musical fireworks bring the sky alight with emotions you'll never forget.
We install PA outside where you stand.
Don't worry about how the music gets played! We take care of the pyromusical firework displays, all included. Our firing laptop will control the firework display and music with 100% synchronisation.
Pyromusical Fireworks
Easy as 1, 2, 3…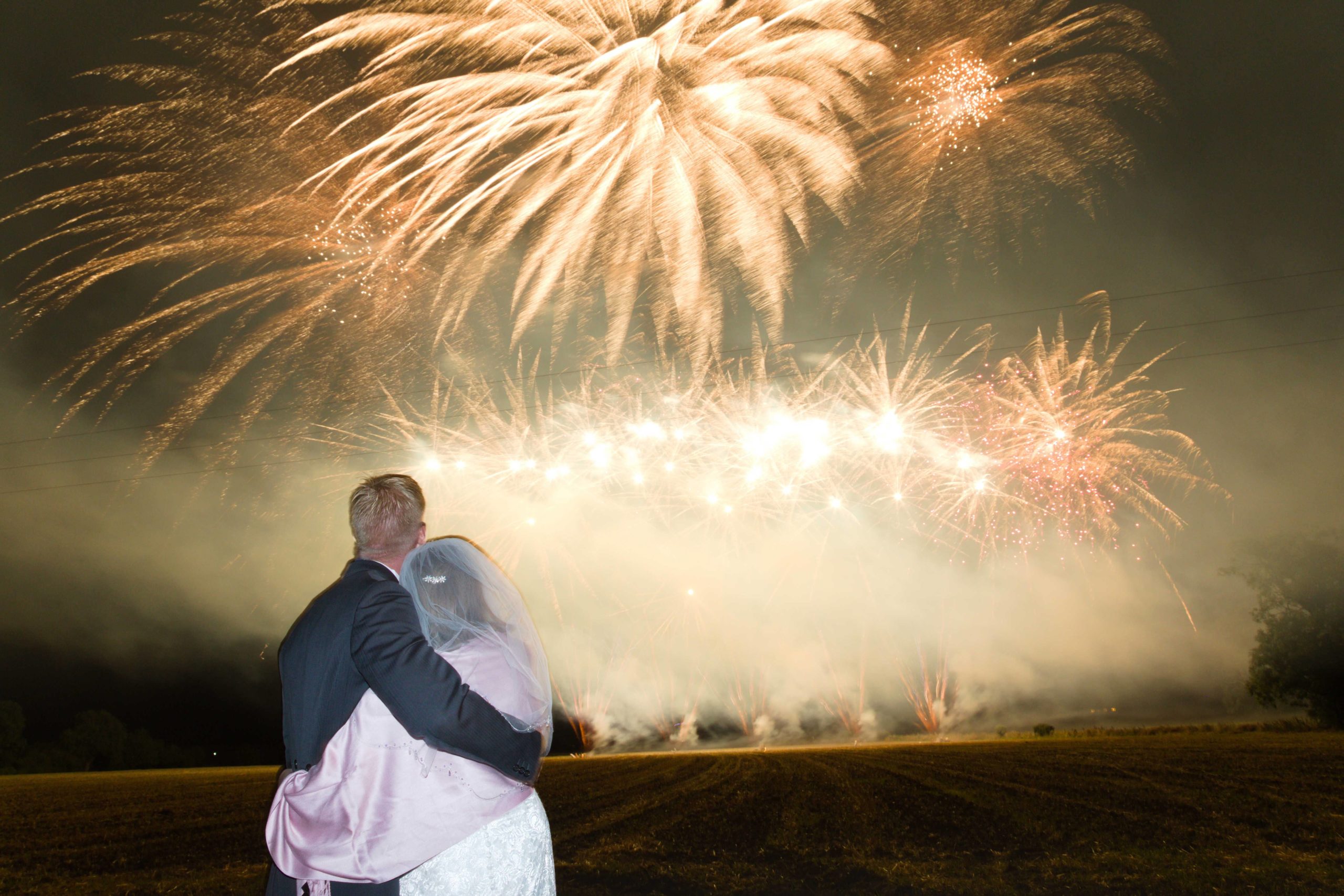 Step 1) Choose a budget
The amount you spend determines how many fireworks we can use which determines how many firing locations we can fire them from at the same time.  More fireworks is always good and more firing sites gives sense of scale.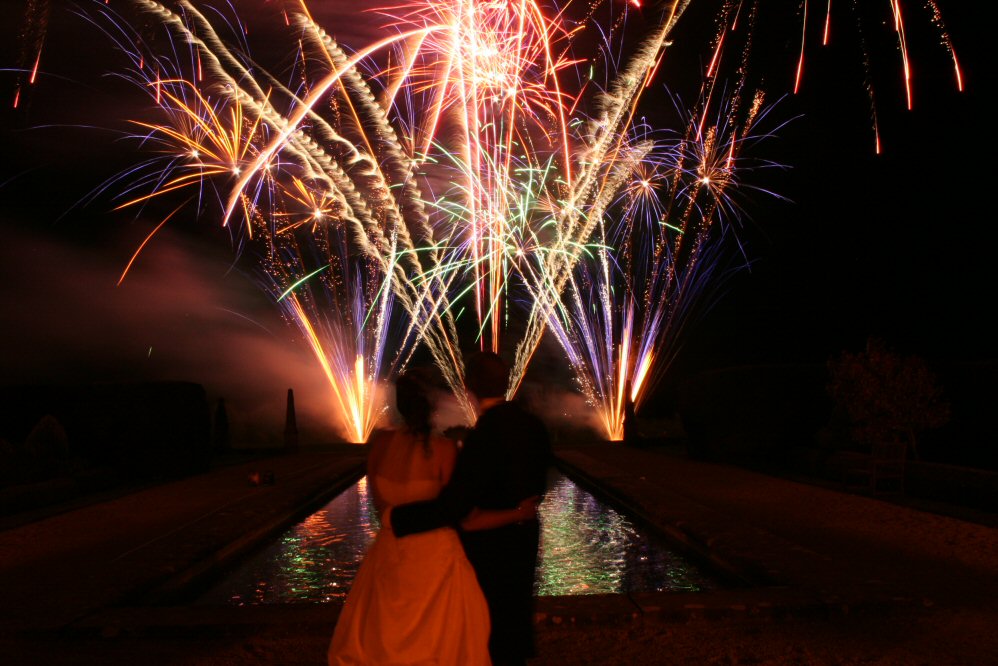 Step 2) Choose a duration
For a given budget the duration for a pyromusical determines how intense the firework display at the wedding is. Pyromusicals are not always about intensity though emotion comes from bringing calm when the music requires.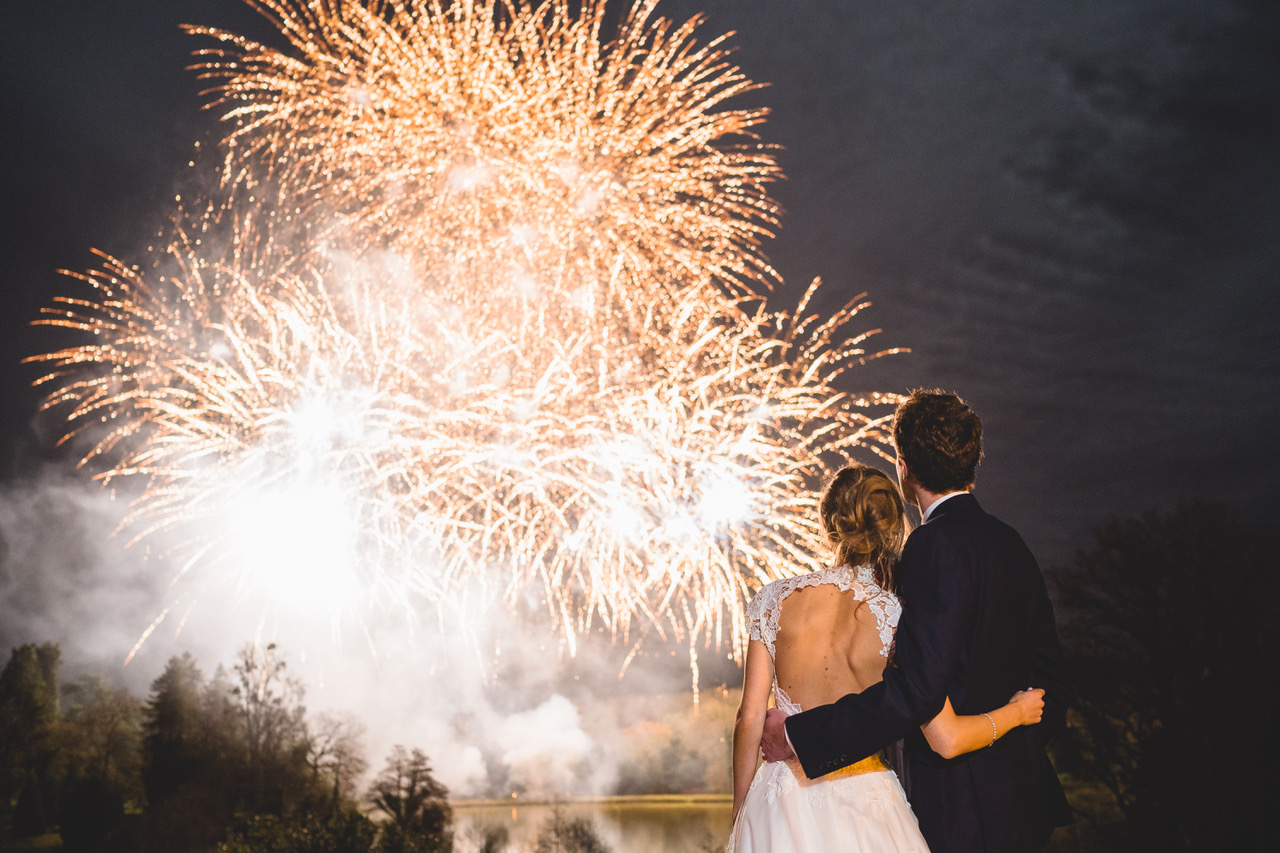 Step 3) Choose your songs
Once you have a budget and duration in mind, the most important thing to decide is the music tracks you want.  We can help with a list of ideas or you can choose your own.  We take care of any mixing needed. professionally.
Average
Show Design
4 – 7 hours
Average
Preparation Time
1 day
£1800
A £1800 pyromusical firework display is a unique and impressive experience that combines fireworks and music to create a mesmerizing and unforgettable spectacle.

With a recommended duration of 3-4 minutes, this display is designed to synchronize with a specific track, creating a memorable experience. By firing from three different sites, the display can cover a wider area and offer a more dynamic experience.

The display will feature different colours and patterns, choreographed to enhance the mood and atmosphere of the track.

With careful planning and execution, a £1800 pyromusical firework display can provide a stunning and unforgettable experience that will leave a lasting impression on all who witness it.

Recommended duration: 3-4 minutes
Number of songs (average): 1
Firing sites: 1-3 I'd like to book this
£2500
Prepare to be dazzled, and swept away by the stunning £2500 pyromusical firework display, a breathtaking and mesmerizing experience that combines the beauty of fireworks with the power of music.

With a recommended duration of 3-7 minutes, this display is expertly choreographed to one or two specific tracks, creating an immersive and unforgettable experience. Firing from three different sites, the display covers a vast area and creates a dynamic and thrilling experience for all who witness it.

The show features a wide range of stunning fireworks effects, such as aerial shells, crossettes, and mines, each bursting with colour and energy, and choreographed to match the rhythm and melody of the music.

The display showcases intricate patterns and shapes, from glittering stars to blooming chrysanthemums, each illuminating the sky with a symphony of colours and sounds.

With precise timing and expert execution, this £2500 pyromusical firework display is sure to be a breathtaking and unforgettable highlight of any event.

Recommended duration: 3–7 minutes
Number of songs (average): 1–2
Firing sites: 1-3 I'd like to book this
£3250
Prepare to be dazzled by the beauty of this £3250 pyromusical firework display.

With a recommended duration of 4-8 minutes, this show will take your breath away with its stunning visual effects and soaring soundtrack. Fired from up to five firing sites, the display will fill the night sky with a mesmerizing array of fireworks, including aerial shells, comets, and mines.

The synchronized bursts of colour and sound, choreographed to two or three carefully chosen tracks, will evoke a range of emotions, from joy to wonder to pure awe.

The display's intricate and delicate patterns, such as cascading golden chrysanthemums or starry willows, are sure to leave you speechless. The beauty of this pyromusical firework display is truly a sight to behold, a once-in-a-lifetime experience that will stay with you forever.

Recommended duration: 4-8 minutes
Number of songs (average): 2–3
Firing sites: 1 to 5 I'd like to book this
£5000
Experience the ultimate in pyrotechnic entertainment with the awe-inspiring £5000 pyromusical firework display, a stunning and unforgettable spectacle that combines the magic of fireworks with the power of music.

With a recommended duration of 3-12 minutes, this display is a true feast for the senses, expertly choreographed to two or three specific tracks, each evoking a different mood and emotion.

Firing from three to seven different sites, the display covers a vast area and creates a breath taking and stunning experience for all who witness it. The show features an incredible range of fireworks effects, such as whistling comets, glittering mines, and soaring aerial shells, each bursting with vibrant colours and vibrant energy, and choreographed to perfectly compliment the music.

The display showcases intricate patterns and shapes, from stunning cascading waterfalls to bright and bold starbursts, each illuminating the sky with a symphony of colours and sounds that will leave you speechless.

With meticulous planning, precision timing, and expert execution, this £5000 pyromusical firework display is an unforgettable and truly extraordinary experience, and the perfect way to make your event truly unforgettable.

Recommended duration: 3–12 minutes
Number of songs (average): 2–3
Firing sites: 3 to 7 I'd like to book this