MLE Pyrotechnics – we offer more than just Fireworks!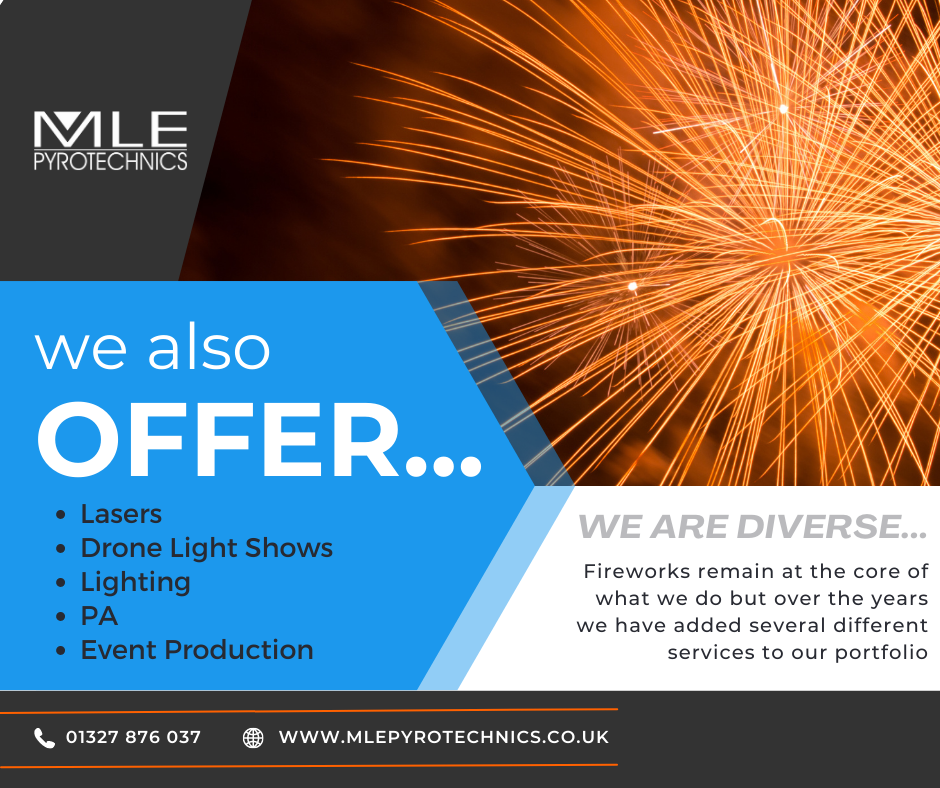 At MLE pyrotechnics, we are passionate about creating unforgettable experiences for our clients. As a full-service event production company, we offer a wide range of services, including drone light shows, laser and light displays, PA hire, and event production. While we offer many different services, fireworks remain at the core of our business, and we take pride in providing our clients with the best pyrotechnic displays possible.
One of our most exciting services is drone light shows. These shows use state-of-the-art technology to create stunning aerial displays that can be synchronized to music or other audio cues. Our team of experts works closely with clients to create custom designs that are tailored to their specific needs, ensuring a unique and memorable experience.
We also offer laser and light displays that can be used in conjunction with fireworks or as standalone shows. Our cutting-edge laser technology allows us to create intricate and mesmerizing displays that are sure to captivate any audience.
In addition to our pyrotechnic and lighting services, we also provide PA hire and event production services. Our experienced team can help clients with everything from stage design and setup to sound and lighting engineering, ensuring a seamless and unforgettable event.
At MLE pyrotechnics, we understand that every event is unique, and we pride ourselves on creating custom experiences that are tailored to our clients' specific needs. Whether you're planning a corporate event, wedding, or public celebration, our team of experts can help you create a memorable and impactful event that will leave a lasting impression on your audience.
If you're interested in learning more about our services or would like to discuss your event needs with one of our experts, we encourage you to reach out to us today. We are always happy to answer any questions you may have and work with you to create the perfect event experience.
So, what are your event needs? Are you looking for a grand pyrotechnic display, a mesmerizing drone light show, or a combination of different services? Our team of experts is here to help you create an unforgettable event that meets all of your needs and exceeds your expectations. Contact us today to learn more! Visit our Facebook page to keep up to date.