Fireworks testimonial – Don't just take our word for it!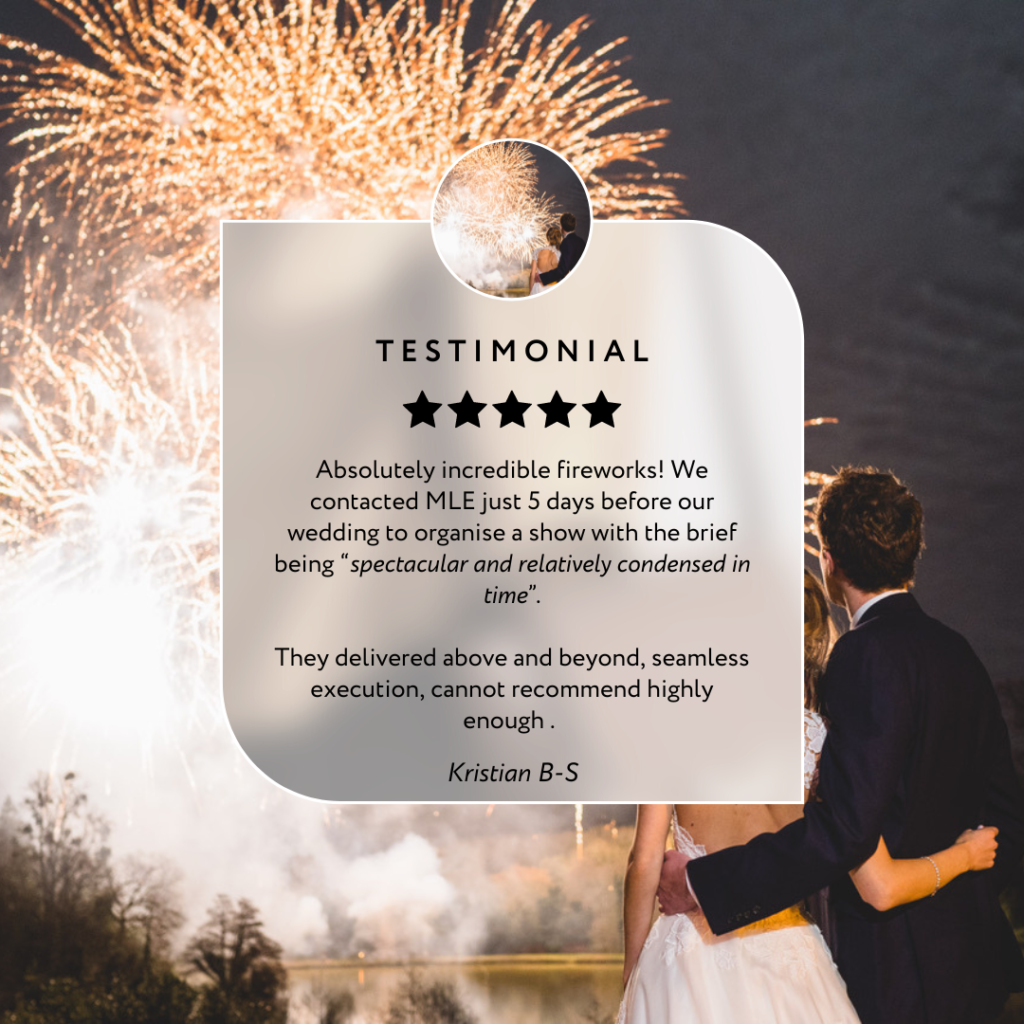 At our wedding fireworks company, we strive to create unforgettable displays that add a magical touch to any special occasion. A couple of years ago, we had the honour of providing a fireworks display for a beautiful wedding, and the feedback we received was truly heart warming.
Our team of skilled pyrotechnicians carefully choreographed the display to create a stunning show that was timed perfectly to the music. From the initial burst of colour to the grand finale, every moment was crafted to create an unforgettable experience for the happy couple and their guests.
As experts in wedding fireworks, we understand the importance of working closely with our clients to create a display that meets their unique vision and budget. We provide a range of options, from small sparklers to elaborate firework displays, and can help advise on what would work best for your wedding reception.
We also place the highest priority on safety, ensuring that all regulations are followed to the letter to guarantee a display that is both visually spectacular and safe for everyone involved.
If you're considering adding wedding fireworks to your big day, it's important to plan ahead and consider the cost. While a fireworks display may seem like a splurge, it can be a worthwhile investment in creating memories that will last a lifetime.
Our team can help you determine the best display for your budget, and we are always transparent about costs so you can make an informed decision.
In the end, the joy and excitement that fireworks bring to a wedding is priceless, and we are honoured to be a part of making that happen for our clients.
To speak with one of our friendly team about your vision, contact us Using the information provided here. Alternatively, contact us via our dedicated wedding fireworks Facebook page.
Best wedding fireworks Fireworks display for weddings Fireworks for wedding receptions Fireworks for weddings Wedding firework displays Wedding fireworks Wedding fireworks cost Wedding fireworks UK Wedding pyrotechnics Wedding sparklers