Fairytale Firework Displays At Your Wedding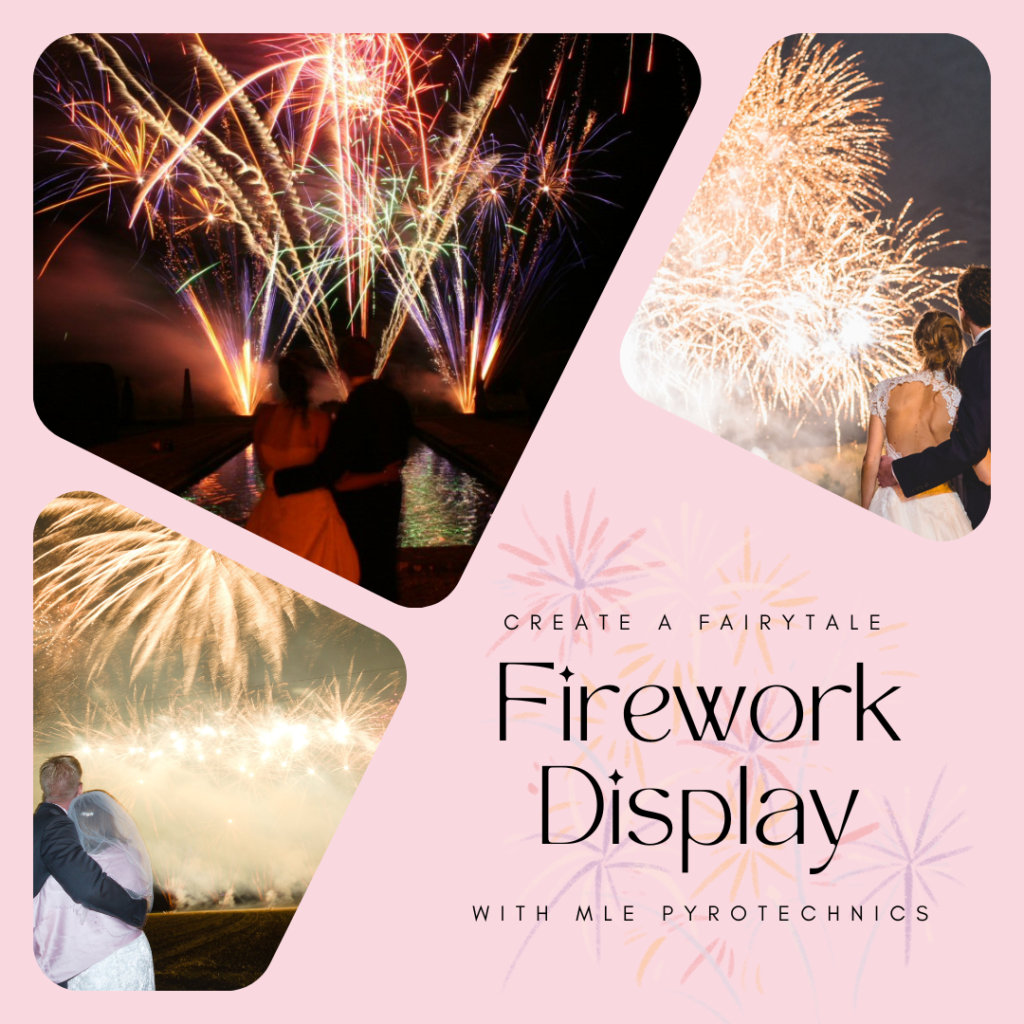 Fairytale Firework Displays By MLE Pyrotechnics.
Your wedding day is one of the most memorable days of your life, and what better way to end the night than with a spectacular firework display? At MLE Pyrotechnics, we offer fairytale firework displays for weddings throughout the UK. We understand that every wedding is unique, and we work with you to create a display that reflects your personality and style.
Why Choose MLE Pyrotechnics for Your Wedding Firework Display?
At MLE Pyrotechnics, we have over 20 years of experience in creating unforgettable firework displays for weddings, festivals, corporate events, and more. We are a team of highly trained professionals who are passionate about what we do. We use the latest technology and firework effects to create a display that will leave your guests wanting to see more.
We take pride in offering a bespoke service, tailoring each display to the individual needs of our clients. We work with you to create a display that compliments your wedding theme and budget to ensure that your expectations are met. We can even choreograph the display to your chosen music, creating a truly unique and personal experience.
An example of a recent wedding firework display
Our Pyrotechnics Team
Our team of pyrotechnicians are highly skilled and experienced. We take safety very seriously, and all our staff are trained to the highest standards. We use the latest technology and equipment to ensure that our displays are safe, stunning, and unforgettable.
Fireworks 101: Everything You Need to Know
If you're planning a firework display for your wedding, here's everything you need to know:
Planning is Key
It's important to plan your display in advance. Preparation is key and whilst we can produce high quality firework displays at short notice, the more time we get to prepare your display the better.
Venue Restrictions
Make sure to check with your venue if there are any restrictions on fireworks displays. There are venues that don't allow fireworks and some that will only allow lower noise displays.
Time of Day
Consider the time of day for your display. Fireworks are best seen in the dark, so if you're planning a summer wedding, consider having the display after sunset.
Budget
Set a budget for your display. This will help us to determine the size and complexity of the display.
Professional Pyrotechnics Team
We are vastly experienced in what we do at MLE Pyrotechnics and professionalism is what we strive for right from the initial enquiry through to the execution of your display on the night. With us, you can rest assured that your display is in good hands.
In Conclusion
A firework display can be the perfect ending to your wedding day. At MLE Pyrotechnics, we offer bespoke displays that will leave your guests in awe. Our highly trained technicians take safety very seriously, and we use the latest technology and equipment to create unforgettable displays. Contact us today to book your wedding firework display in the UK.